March Madness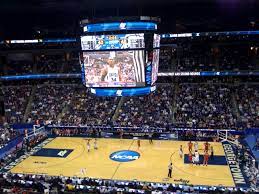 March Madness is a basketball tournament that has sixty-eight teams, and eventually one champion that starts on March fourteenth, and ends on April fourth. The teams play in different locations throughout the United States and eventually the championship game is in Houston. People look forward to cheering on their team, making a perfect bracket, and major upsets
The first four are the Tuesday and Wednesday before the bracket of sixty-four happens, which is eight teams playing for four spots in the tournament. This took place in Dayton Ohio. sixteen seed Texas A&M Corpus Cristi, sixteen seed Fairleigh Dickinson, eleven seed Arizona State, and eleven seed Pitt won. 
The first round of the tournament was on March sixteen, and March seventeen all across the United States. The biggest upset in the South region was thirteen-seed Furman beating four-seed Virginia on a game-winning three-point shot to move on to the next round. Also, fifteen-seed Princeton beat two-seed Arizona. 4.73% of brackets picked Arizona to win the National Championship, and only 4.13% of brackets picked Princeton to win just this game. Fifteen seeds have beaten two seeds just ten times, and have lost 138 times. 
The biggest upset in the whole tournament happened in the East region. Sixteen-seed FDU (Fairleigh Dickinson) beat one-seed Purdue. 8.8% of brackets had Purdue winning the National Championship, and 1.4% of people picked FDU to win just this game. This was a big shock to people. Gavin Brown, a basketball fan said "I was shocked because one of the tallest teams beat the shortest team in college basketball." FDU wasn't even supposed to make the tournament because FDU didn't win their conference championship. Merrimack won but due to a rule that the NCAA has, Merrimack wasn't eligible due to a rule of having to sit out four years from transitioning from Division Two to Division One. 
In the Midwest division, there weren't many upsets in round one but the biggest was eleven-seed Pitt who played in the First Four beating six-seed Iowa State by eighteen. The only other upset was ten-seed Penn State beating seven-seed Texas A&M. Both of these teams were hot making it to their conference championships. 
In the West region, there were no upsets in Round one. All the better seeds won their games, but six seed TCU(Texas Christian University) barely pulled out the win against eleven-seed Arizona State, just winning by two.
In the Second Round of the tournament, there were two major upsets in the South Region: six-seed Creighton beat three-seed Baylor by nine, and fifteen-seed Princeton upset seven-seed Missouri by fifteen. Creighton beating Baylor may be a shock to some people but Creighton at times has been one of the best teams but other times they have been horrible. Princeton is just the third fifteen seed to make it to the Sweet Sixteen. Princeton is just the second Ivy League team to make the Sweet Sixteen since there have been sixty-four teams in the tournament. 
In the East there was one upset, seven seed Michigan State beat 2 Marquette. Michigan State is one the best basketball programs of all time and has legendary coach Tom Izzo, but have struggled this season. 
There were no upsets in the Midwest region. In the West region, the second one seed was eliminated when eight-seed Arkansas beat one-seed Kansas. This game was very close and Arkansas was able to pull it out just by one. Kansas head coach Bill Self was not coaching due to health issues. 
In the sweet sixteen, there weren't many upsets. In the South Region, Princeton's magical run came to an end against Creighton. Five-seed San Diego State upset one-seed Alabama by seven points. Alabama has had some controversy in the program due to a shooting that happened involving a player on the team. In the East Region, nine seed FAU (Florida Atlantic University) upset 4 seed Tennessee by a score of seven. In the Midwest Region five seed Miami beat one-seed Houston by fourteen points. This game made it so there were no one seeds remaining. This is just the fifth Elite Eight without a single one seed. In the West Region, three-seed Gonzaga beat two-seed UCLA on a game-winning shot to advance.  
In the elite eight, five-seed San Diego St beat six-seed Creighton by one on a controversial call on the last play of the game. This is the first time San Diego State has made the final four. Nine-seed FAU beat three-seed Kansas State by three. FAU advanced to its first final four in school history. Five-seed Miami beat two-seed Texas by seven. Miami also made it their first final four in school history. Finally, four-seed UConn beat three-seed Gonzaga by twenty-eight. UConn has been the hottest team in the tournament. 
In the Final Four, five-seed San Diego State beat nine-seed FAU by One. Lamont Butler of San Diego State hit a game-winning jump shot to go to the National Championship. Four-seed UConn beat five-seed Miami by thirteen. UConn has won every game this tournament by at least ten points. 
In the Championship game, four-seed UConn beat five-seed San Diego State by seventeen. UConn played very well in this tournament, and UConn wasn't even seeded really high. UConn had three players who were fasting due to Ramadan. This means they can't eat or drink until the sun goes down. Drew Iddings a basketball fan "I think it can affect their energy level but one player thought it made him play better. "UConn fought through those challenges and was still able to win and win by a lot. 
This year in March Madness has been a year of lots of upsets. Lots of people think that this is shocking, but Brown said "I am not surprised because of the transfer portal to lose guys and teams that aren't historically good to be good." The tournament has lots of thrills each and every year. People look forward to this every year, and hopefully, this tournament will be fun next year just like this year.