Mariclare Bakes: Spring Edition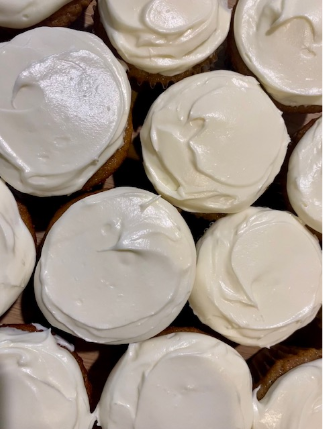 I love spring time. The weather getting warmer and all the trees and flowers budding, it feels like the word is being revived. It gives me energy and hope for summer. So I decided that this issue of Mariclare Bakes would be dedicated to spring time. The one dessert that comes to mind when I think of spring is carrot cake. So this issue I made carrot cake cupcakes.
PSA: This is not my recipe I used: My Favorite Carrot Cake Recipe – Sally's Baking Addiction 
Ingredients 
Cake-
2 cups chopped pecans (I didn't include this in my version)

1 and 1/2 cups brown sugar

1/2 cup granulated sugar

1 cup vegetable oil or canola oil 

4 eggs

3/4 cup unsweetened applesauce

1 tsp vanilla extract

2 and 1/2 cups flour 

2 tsp baking powder

1 tsp baking soda

1/2 tsp salt

1 and 1/2 tsp ground cinnamon

1 tsp ground ginger

1/4 tsp ground nutmeg

1/4 tsp ground cloves

2 cups grated carrots 
Cream Cheese Frosting-
16 ounces cream cheese, softened to room temperature

1/2 cup butter, softened to room temperature

4 cups (480g) confectioners' sugar

1 and 1/2 tsp vanilla extract

pinch of salt
Instructions:
Preheat oven to 350°F, and line the cupcake tins

 Whisk the brown sugar, granulated sugar, oil, eggs, applesauce, and vanilla together until fully combined

In another bowl whisk the flour, baking powder, baking soda, salt, cinnamon, ginger, nutmeg, and cloves together

Combine the wet with the dry ingredients and mix until fully incorporated 

Shred the carrots and combine them with the batter

Pour the batter into the cupcake tins

Bake for 20 to 25 minutes or until fully cooked through

While the cupcakes are baking cream together the butter, cream cheese, and vanilla

Slowly mix in the powdered sugar until your desired sweetness

Once the cupcakes cool, frost them and serve!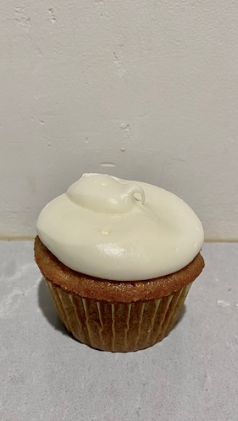 Reviews: 
Neiman Shivers: 9/10-"Very, very good. My only criticism is that it needs more frosting because I love frosting."
Stephania Ruggieri: 10/10 – "This is really good. I love the carrots in it and the cream cheese adds the perfect flavor combination, and it's not dry or too soggy."
Dayanara Espanoza: 8.5 – "The cream cheese frosting is a little too sweet for my liking but it's really good together."