Mariclare Bakes: End of the Year Edition
During this past year of Mariclare Bakes I have made cupcakes, cookies, cakes, bars and so much more. So when trying to come up with new things to bake for this issue of the Chronicle, I realized that the one thing I haven't made this year is pie. I immediately knew I had to make pie and decided to make a key lime pie to complement the weather getting warmer and the spring season. Although, this key lime pie is perfect for any season, with the perfect balance of sweet and tangy.
PSA: I used Allrecipes for my crust and filling: https://www.allrecipes.com/recipe/15880/key-lime-pie-vii/ https://www.allrecipes.com/recipe/12254/graham-cracker-crust-i/ 
Recipe:
Ingredients-
Crust:
1 ½ cups graham cracker crumbs

⅓ cup white sugar

6 tbsp melted butter

½ tsp ground cinnamon (Optional)
Filling:
3 cups sweetened condensed milk

¾ cup key lime juice

½ cup sour cream

1 tbsp  lime zest
Directions- 
First, preheat your oven to 350 degrees

Combine all the ingredients for the crust and mix

Press the mixture into the bottom and sides of a pie pan

Bake until golden brown

While the crust is cooling, combine all the ingredients for the pie filling and stir until well combined

Pour the mixture over the crust 

Bake at 350 for 5 to 8 minutes

Take the pie out and allow it to cool for at least one hour before serving 

Enjoy!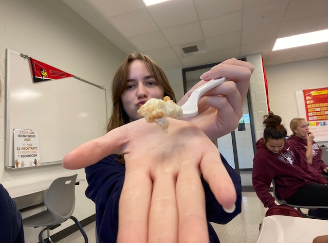 Reviews:
Allie Tucker: 10/10- "I love key lime pie. It was the perfect amount of tangy sourness, and the crust was amazing. It was so good!"
Neiman Shivers: 10/10- "The pie-to-crust ratio was perfect. There was just enough sweetness but it was still citrusy from the lime. I really liked it."
Stephania Ruggieri: 9.5/10- "It was really good! The flavors were really well balanced."