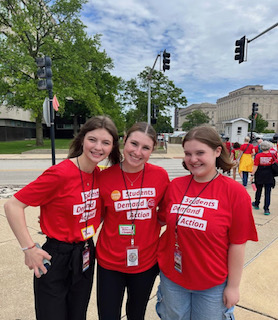 (Left to Right: Ellie Faraci, Nessa Bleill, Laney Heggemeyer)
As gun violence and mass shootings continue to be a devastating issue facing our country, many students express frustration in the few efforts lawmakers are making to end gun violence in America. However, for many students, speaking out and aiding this change can feel unrealistic. How can a young person make a difference in an issue as large and substantial as gun violence? Luckily, Central is providing students an opportunity and platform to speak out about gun violence in the new club, Students Demand Action.
Students Demand Action, or SDA, is a national organization with over 600 different chapters nationwide. SDA works to advocate for common-sense gun safety laws, elect gun sense candidates at all levels, educate communities about gun safety, register new voters, and end gun violence. At the start of this year, Central's own SDA chapter began holding meetings. This club is led by seniors Nessa Bliell, Laney Heggemeyer, and Ellie Faraci, and sponsored by Kate Flugge, who teaches Social Justice Seminar, among other social studies courses.
Story continues below advertisement
Regarding why these students wanted to start an SDA chapter at Central, they were frustrated with the continuous news of mass shootings with little recognition from lawmakers. "I was devastated that more and more people were experiencing the same trauma that I had to," said Bleill, a survivor of gun violence herself. "I knew that I was not the only one who was frustrated over the repetition of shootings and felt a passion to advocate against it. I started SDA because I wanted to give myself a voice as well as all of the students at Central who are as frustrated and fed up as I am."
The student founders have high hopes for the chapter, believing it can not only be incredibly beneficial to Central students, but also in creating a difference in our community. When asked about their goals for the club, Heggemeyer stated, "I want us to successfully educate students and staff on how gun violence directly and indirectly affects them. I feel like a lot of people don't think it affects them, but it does, whether they see it or not." Additionally, Bleill discussed the desire to make a lasting impact with Central's SDA chapter, stating, "I really hope to see the chapter being taken over and carried on even when all of our current senior leaders have graduated. I also would love to be recognized for the work we do by the local news. I want to be able to make a big enough difference that the community sees a difference and what the power of Central students' voices can do."
If you're on the fence about whether or not to come join SDA, it's definitely worth trying a meeting out. According to Bleill, SDA is "a great opportunity to learn and to get involved with activism. It is for motivated, dedicated students who want to make a difference and use their voice." Heggemeyer expressed a similar sentiment, stating, "We want everyone to feel seen and heard." SDA meets Fridays at 7:30 AM in room 2107. Follow @sdacentralhs on Instagram for more updates!