The Internet is on Fire: The JustAMinx Controversy
JustAMinx is an Irish Twitch streamer who has amassed a following of nearly 2 million subscribers. Her vulgar attitude and chaotic environment shot her to the top of the charts, where she sits as the 16th most followed female streamer. Her style of streaming and rampant alcoholism have also garnered her plenty of controversies. Now, she sits again in the hot seat as her friends and colleagues cut ties. The internet is on fire; here is your rundown of what is happening.
Becca, or JustAMinx, was born on November 3rd, 1996. She has shared few details regarding her childhood but it is known that she has a sister named Eva, went to college for special needs assistance and child care, and that she was raised Catholic.
Minx started streaming in 2016. Her fame came from the game show Love or Host, created by fellow streamer, Austin Show. The show consists of one competitor seeking love and a menagerie of suitors and suitresses. Before the show, the various suitors and suitresses must decide whether they are there for love or there for the money. The competitor must weed out their suitors and suitresses so that the last person standing chose love. 
Minx became a recurring figure, gaining popularity by making fun of her Irish heritage. Her jokes are largely focused on her loud voice, vulgar language and drinking habits. It was these jokes that disguised the very real drinking problem that Minx has. It's caused problems in the past, with fans worrying about her after she admitted to drinking while on painkillers that explicitly prohibit alcohol consumption and a ban from Twitch that is believed to have been due to being drunk and dropping a bottle on the floor.
The recent controversy she faces may very well be the nail in her coffin. The Streamer Awards, hosted by QTCinderella, are an independent award show that is aimed at congratulating streamers on their achievements in an industry that largely ignores them. Following the awards, an after party is held. While on her podcast, Fear& with Will Neff, Hasan Piker, AustinShow and guest star Valkyrae, she claimed that the afterparty was shut down following an incident where she claimed Minx was 'drunk and disorderly.'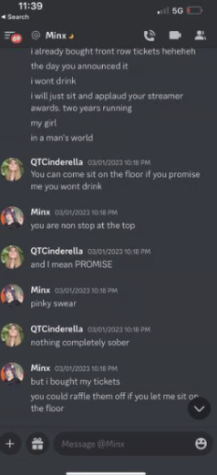 Cognizant of Minx's drinking and having attempted to get her help to no avail, QT made Minx promise not to drink at the party. Nevertheless, she arrived inebriated.
QT claimed that Minx had attempted to throw attendees into the pool as well as gas heaters. When security arrived she went limp to make it harder to remove her. Neighbors were awoken and police called. Sykunno, who also attended, said that he and CDawgVA had been trying to stop minx from jumping in and that she did not try to throw him in the pool.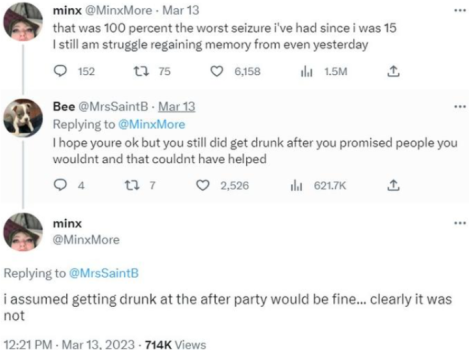 Minx posted on Twitter that she had suffered a seizure and it gave her temporary amnesia. When accused of lying about events of the afterparty, Minx said that her alcohol consumption did not affect her and claimed that she was pushed and had a seizure.
Her tweet being the last straw, QT and Minx got into a heated argument on Twitter. QT posted her Discord DMs as evidence for her stance. Minx later went on streaming platform Kick where she restated her claim that she suffered a seizure and said she will be traveling back home to Ireland to receive treatment for her epilepsy. 
QT responded to this by commenting under a photo that Minx posted of herself at a hospital: "You're just lying. This picture is from you getting liquids at the ER."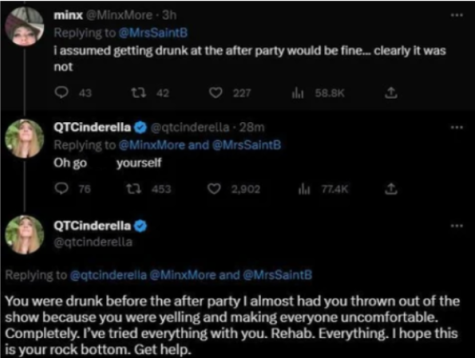 Far from the end of Minx's online drama, she then came under fire for a stream where her sister accused her of "having a problem." Minx responded by claiming that her sister had an underaged boyfriend. Minx's father can be heard telling one or both of the women to "stop being an aggressive fool," before calling the accusation of Minx's sister dating someone underage "insane."
As the family fights, viewers can be seen in the chat telling JustaMinx to end her stream so that the drama can take place in private. It ended shortly after.
With everything going on, fans are hopeful that Minx will take the time to seek treatment and address her familial drama away from the camera.