Mariclare Bakes: Christmas Edition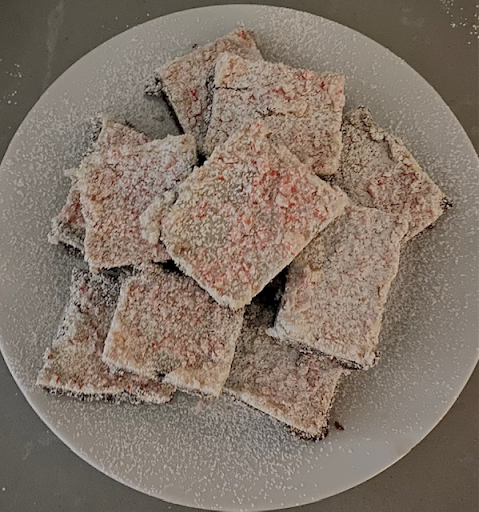 I love Christmas. I love the decorations, snow, food, gifts, and much more. But gift-giving is definitely one of my favorite parts of the holiday season. I love finding the perfect gift for someone; something that they didn't even realize they wanted. Although sometimes it is really hard to find the perfect gift, especially if you don't know the person very well. That is where baking comes in. Baked goods are the perfect gift for anyone. Everyone loves desserts, but not everyone loves to bake. So if you can give them the dessert, so they don't have to bake, it's perfect. And what is better than a Christmas-themed dessert? That is why I decided to make the perfect peppermint brownie. It has mint chocolate swirled into the brownie batter and a white chocolate coating on top with crushed-up candy canes.
PSA: Everything is my recipe except for the base brownie batter. I got that from https://tasty.co/recipe/the-best-one-bowl-brownies, but you can use a different brownie batter recipe if you want.
Ingredients:
Brownie Batter:
1 cup butter

1 cup semi-sweet chocolate chips

1 ½ cups granulated sugar

¾ cup brown sugar

1 tbsp vanilla extract

1 tsp salt

3 eggs

1 ¼ cups flour

⅓ cup cocoa powder

10 oz Andes baking chips (You can use more or less, I just used the whole bag)
Topping:
11 oz of White chocolate chips  (You can use more or less, I just used the whole bag) 

Candy canes (However many you want)
Instructions:
Preheat oven to 350 degrees

Microwave the butter and one cup of chocolate chips together for 1 ½ minutes. Then stir together and let sit until cool. 

Add the sugars, vanilla, and salt and mix. Then add in the eggs and whisk to combine.

Sift in the flour and cocoa powder into the wet ingredients, and then add in the extra chocolate chips and stir until fully incorporated.

Grease and line a square baking pan.

Bake for 35-40 minutes or until cooked to your liking.

While the brownies are cooking, crush your candy canes, and melt your chocolate

Once done baking, let the brownies fully cool, and then spread the white chocolate on top to form a layer and add the crushed-up candy cane on top.

Let cool and Enjoy!
Reviews:
Addison Jones and Hannah Su: 8.5/10 – "It's good! I like the peppermint. It gives Christmas spirit. I do feel like it could be chocolatier though."
Eunice Kim: 9/10 – "Partly because I don't like peppermints. It gives me very Christmassy vibes. It gives you a little minty taste after the nice chocolate taste. Very good!"
Neiman Shivers: 12/10 – "This is one of the best things I have ever had from you, I thought those cake pops couldn't be topped, they did. There are levels to this. It's so good!"