Mariclare Bakes: Valentines Day Edition
There are lots of different opinions on Valentine's Day.  Some love it, and others hate it. I like to use it as an excuse to bake cute desserts and give them to my friends. Desserts are the perfect Valentine's gift for anyone. They perfectly show that you care about them and they are delicious. For this reason I wanted to make a dessert that was simple, adorable, and delicious. These thumbprint cookies did the job perfectly. They are delicious, and not very complicated at all. I also made the thumbprint part into a heart to make them festive. Make them for your friends, significant others, or family. It will be the perfect Valentine's Day gift.
PSA: This is not my recipe I used https://sugarspunrun.com/thumbprint-cookies/ 
Ingredients
1 cup butter softened 

⅓ cup sugar

⅓ cup light brown sugar

1 egg yolk

¾ teaspoon vanilla extract

2 ¼ cup all purpose flour 

2 teaspoons cornstarch

½ teaspoon salt

½ cup sugar for rolling (optional)

⅓ cup jam 
Instructions 
Preheat the oven to 375 degrees

Cream the butter, sugars, egg, and vanilla extract until fully combined

Sift together the dry ingredients 

Combine the dry and wet ingredients and mix until fully incorporated

Roll the dough into balls and cover them with sugar

Press the balls until they are slightly flat but still thick

Then use a spoon or your thumb to indent a heart into the cookies

Fill the heart indentations with your preferred type of jelly

Bake for 11 minutes or until cooked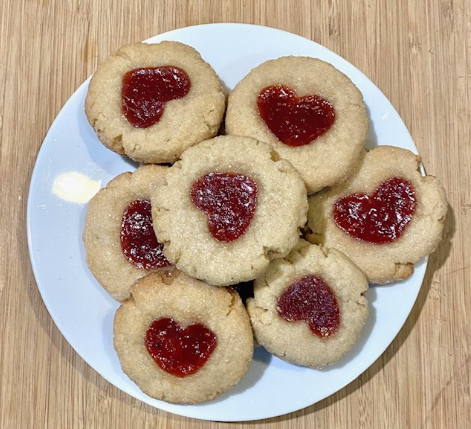 Reviews:
Hannah Su-9.5/10: "I like it a lot, I like the sugar and the jelly. I think it tastes really good together."
Stephania Ruggieri-10/10: "I really like it, it had the perfect amount of jelly and it wasn't too hard or too soft."
Allie Tucker-10/10 "I really liked it, it wasn't too sweet, it was kinda salty which i liked a lot.
Neiman Shivers- 10/10 "I'm not a fan of jelly but it's just so good. The cookie is really crisp but sugary and all the flavors go really well together."