The Internet Is On Fire: Andrew Tate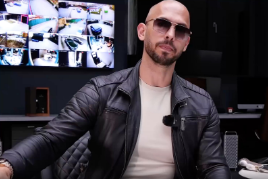 You may not have heard of Andrew Tate but you've seen his impact. A self described misogynist and Google's 8th most googled person of 2022, Andrew Tate first came to fame with his kickboxing career then becoming a part in a scandal on Big Brother. His infamy only grew as he became an increasingly controversial character through his social media, podcasts and famously his 'Hustlers University.' Following an internet argument with environmental activist Greta Thunberg, Andrew Tate and his brother Tristan were arrested on charges of human trafficking and sexual assault. The internet is on fire; here is your rundown of what's happening.
TW: This article contains crude discussions of rape, sexual assault, sex trafficking and related subjects. The quotes in this article do not represent the beliefs of The Chronicle.
Emory Andrew Tate III was born on December 1st, 1989 in Washington D.C. His professional kickboxing career started in 2005 under the name 'King Cobra.' He was ranked the 7th best light heavyweight kickboxer by the International Sport Kickboxing Association. His first championship win was in 2009 and he would go on to win several world titles.
In 2011, Tate launched a webcam service where as many as 75 webcam models sold sob stories to male callers. He later described it as a "total scam" and claimed to have made millions off the site.
In 2016, he joined Big Brother, the British reality show. Tates homophobic and racist comments on Twitter brought him under scrutiny and he was removed from the show 6 days after a video of him beating a woman with a belt emerged. Both Tate and the women declared it consensual.
Tate found new fame in his website when he started Hustlers University, a platform with a monthly fee of $49.99 designed to educate you on cryptocurrency and ecommerce. Pre- recorded videos of Tate with fancy cars and beautiful women encouraged people to join, depicting the 'ideal life.' By August 2022, the website had over 100,000 subscribers. In the same month, the company backing them, Stripe, pulled out and Hustlers University was forced to shut down. Marketing professor for the University fo Western Australia, Paul Harrigan, said the program constituted a social media pyramid scheme.
In 2017, Andrew Tate moved from the United Kingdom to Romania. He said it was because he liked "living in countries where corruption is accessible for everybody," and said he was less likely to face rape charges since they would require evidence or CCTV proof.
Which brings us closer to current events: on April 11th, 2022, a man told the U.S. embassy that his former girlfriend was being held in Tates home against her will. A raid found 4 women, two of which claimed to have been held against their will. Following an investigation, both Andrew and his brother Tristan were interrogated and released. At the time, they were considered witnesses, not suspects.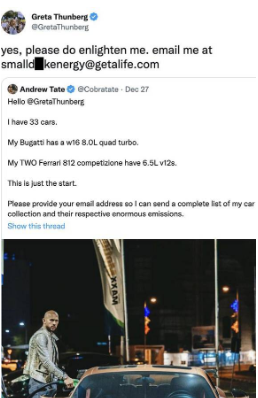 In December of 2022, Tate taunted environmental activist Greta Thunberg on Twitter by asking for her email while showing off his various cars. She replied with a fake email address of "[email protected]." It is currently the 4th most liked tweet of all time. His responses included a video in which a pizza box is featured. This pizza box is from a local Romanian pizza place, Jerrys Pizza. Although there is no confirmation, speculation suggests that this was what tipped off Romanian police that the Tate's were in the country.
On December 29, 2022, police arrested the Tate brothers and two women under suspicion of human trafficking and forming an organized crime group. The Directorate for Investigating Organized Crime and Terrorism (DIICOT), the Romanian anti-organized crime agency, accused them of forcing 6 women (not publicly identified) to create explicit content on websites like OnlyFans, which are known for said content.
Greta responded to this news with a tweet about recycling pizza boxes, which became the 7th most liked tweet of all time.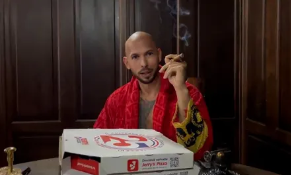 After a 24 hour pre-trial detention, the judge extended the Tate brothers' detention by 30 days. An appeal was made but was denied on January 10th. Their arrest allowed the authorities to seize 29 assets valuing around $4 million.
Of the six alleged victims, two have denied being victims. These two also received tattoos which read "owned by Tate," which they claim to have received out of respect for the brothers. As of January 5th, 2 other potential victims have joined the case and filed statements.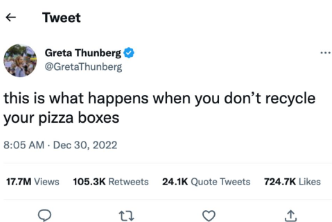 Andrew Tates impact is seen throughout the world but specifically in young boys. Gavin Brown said "He has power over people 12 and under. If you are older and you think he is right, you are an idiot."
When asked if he and his ideology had impacted her, Samaira Sandil said "People are openly willing to support the kind of person who has committed malicious crimes. It impacted me by showing me how disgusting people can be."
Laynie Ritchie agreed saying, "It normalizes misogyny and young boys will blindly follow what he says."
On January 20th, the courts further extended the pre-trial detention of the brothers until February 27th.
No formal charges have been filed against them at this time.