Fashion Hot Takes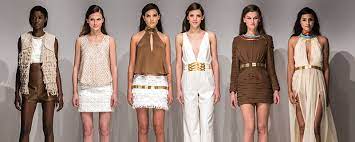 As we move further into 2023, we recognize trends from last year and new trends coming into focus. There's some I like and some I don't, and I'm here to convince you on why.
Spaghetti straps are delightful until you realize strapless bras are necessary and they tend to dig into your shoulders. Not all spaghetti straps, of course, but if you pair it with the mini skirt often found on these types of dresses (see homecoming) you've purchased a large piece of fabric with two straps to support everything. In theory it looks cute but some accentuate in the wrong way. Alternatively, these dresses can have bishop sleeves. I have nothing against bishop sleeves- they're an entirely flattering silhouette and the flowing nature makes the wearer feel elegant. 
With these types of dresses, in their casual forms, you can find the scrunch ties through the dress, which are meant to make it tighter, shorter, more flattering- which can be the case but they're often just difficult. 
The finer mechanics of clothing, such as waistlines and necklines are paired differently to make different dresses, and most, if done well, work out. I, however, do not prefer v-necks. They don't look flattering on t-shirts, they're meant to accentuate but they fail in that degree and you end up with less fabric unnecessarily. Plunging v-necks on formal wear, however, are elegant but slightly revealing in a good way. V-necks are hard to pull off, and most companies don't know how to make them work. In addition to v-necks, I have a strong dislike of empire waistlines. They aren't flattering, they hide your waistline. If you have a boxy body type they would likely look flattering for you, but my body type does not do well with empire waistlines. It makes me look childish, and while this waistline has been repopularized by Bridgerton, the Netflix show, they don't work for all body types. 
As a person with a triple D cup size, shopping is difficult if I want dresses or crop tops. Crop tops often have the issue of open backs, not enough support, not enough fabric, or they spill out the top. This is the issue also with the trend of scarf tops- they're so cute, but there's not enough support in them. I love this trend, though, so you should for sure grab a scarf and try to make a top this summer! The issue with dresses, sometimes, is the amount of random cut-outs. When I buy a dress I would expect it to have a fair amount of fabric, or at least fabric in the correct places. The side cutouts are cute in theory but just decrease what types of bras I can wear and are uncomfortable when trying to sit down or walk around. 
The eighties are still coming back, because of Stranger Things and other shows, movies, media making sure of it. High waisted jeans, large earrings, playing with colors- all inherently eighties trends we see often. High waisted jeans aren't going anywhere, but designers are trying to bring back low waisted as a trend. I cannot express how much I absolutely despise low waisted jeans. Early 2000s fashion was a mistake. Frosted tips, belly adornments, low waisted jeans, jeans under dresses, and more were all just atrocities. 80s, 70s, and 90s all had better fashion, so I cannot understand why the 2000s fashion went so far downhill. Keep wearing high waisted jeans so we don't have to deal with early 2000s fashion coming back. Additionally, please keep uggs in the past. We don't need them, no one needs them, I promise. 
As it gets warmer, we can break out our spring and summer outfits. I'm sure you've been layering this whole winter season, but get ready to put away the undershirts. A favorite trend of mine for this is bucket hats. I adore bucket hats, and I think they're a lovely way to get the sun out of your eyes if you don't want to look like a redneck wearing a baseball cap. We can't talk about spring trends without mentioning shoes, and platform converse are a new trend. All-stars, or converse, have been around since the 20s, and they continue to persevere as a trendy shoe. I personally like the platform converse, platform shoes of any type have always been a favorite of mine. 
Remember to dress for comfort more than style.  Although stilettos can be visually appealing, wearing them for long periods of time is uncomfortable.  Have fun with your fashion, and I hope I've convinced you to stay away from v-necks.