2023 NFL Mock, Big Blocks and Teams are on the Clock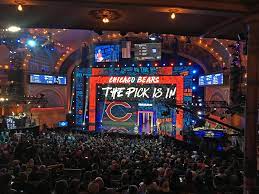 Every year at the end of April the National Football League holds a draft where incoming players, usually college players, get drafted by the teams based on how good they are and how they would fit into the team's needs and plans for the season. A mock draft is something you can do to predict what the teams will do during the draft, who they will pick, or, whether they will trade up or trade down. It's impossible to predict exactly what each team will do, but it is still really fun to try. In this article, I will do my own mock draft and ask others for their opinions to create the perfect draft. 
#1 Pick Carolina Panthers: QB CJ Stroud 
The Panthers are in full rebuild mode trading Christian Mccaffrey last year and they're kicking off the rebuild with a potential star quarterback. Whether this is gonna be Ohio State's CJ Stroud or Alabama's Bryce Young is a coin flip, you can make a good case for whoever is better, but there are rumors that the Panthers have Stroud over Young so I have Stroud going number one here.
#2 Pick Houston Texans: QB Bryce Young
Although Young could've gone a pick earlier, he doesn't manage to fall far as the Texans are still stuck in their rebuild mode after the Deshaun Watson controversy, the Bill O'Brien trade, and now the firing of Lovie Smith. Young should be able to give them a huge step forward to being competitive in their division at least.
#3 Pick Arizona Cardinals: EDGE Will Anderson Jr
After a very disappointing season where many people thought the Cardinals would be going to the playoffs, the Cardinals find themselves with the third pick and without premier defensive end J.J. Watt. So with their first-round pick, they will be trying to fill the void left by picking arguably the best player in the draft, Will Anderson Jr.
#4 Pick Indianapolis Colts: QB Anthony Richardson
The Colts are another team who had a very disappointing season as many people thought running back Jonathan Taylor would be able to carry them to a little bit more success than the fourth-worst team in the league. They clearly need a consistent quarterback under center and that will be Florida's Anthony Richardson who impressed a lot of eyes during the college season and combine with his athletic abilities. 
#5 Pick Seattle Seahawks: EDGE Tyree Wilson
You can make a good case here for Georgia's defensive lineman Jalen Carter who can be argued as the best player in the draft, but he does have some off-field controversies that are making him drop so far in the draft. The only reason I have the Seahawks taking Wilson over Carter here is because the Seahawks have a very non-toxic environment in their locker room and it's obvious that they want to keep it that way.
#6 Pick Detroit Lions: CB Christain Gonzalez 
The Lions have put themselves in a very good position for their future, they have many young players that will be able to grow into potential superstars, a good head coach that all of the players respect, and a veteran quarterback that can hold down the line until they potentially get a young superstar quarterback in the future. But for right now they need to improve their defense and they will do that by drafting a potential superstar Cornerback in the making.
#7 Pick Las Vegas Raiders: QB Will Levis
The Raiders are in a very weird spot, they have solid offensive pieces like Davantae Adams and Josh Jacobs, but they also got rid of their quarterback Derek Carr. You don't just get rid of your quarterback and do nothing to fill the void that he left behind. So I have the Raiders picking up Kentucky's Will Levis who can succeed in the Raiders system, we'll just see if he takes advantage. 
#8 Pick Atlanta Falcons: DL Jalen Carter
The Falcons get a potential steal here with one of the, if not the best player in the draft, Jalen Carter barring any off-field issues that he's currently facing as he is currently facing probation for being involved in a car crash killing two people. The Falcons desperately need a better defense though and will take the chance on Carter. 
#9 Pick Chicago Bears: OT Paris Johnson Jr
The Bears traded down from the number one pick to the Panthers gaining a lot of future draft capital and star wide receiver DJ Moore in what will most likely go down as a win for the Bears. Now with their new #9 pick in the draft, they will pick up some protection for Justin Fields from Ohio State with another Buckeye in Paris Johnson Jr. 
#10 Pick Philadelphia Eagles: CB Devon Witherspoon
The Eagles after being the runner-up in the Super Bowl get the #10 pick here through a trade. They could get some defensive help, a big reason they were in the spot they were last year was because their amazing offense overshadowed their average defense. So they will pick the best defensive player left on the board, Devon Witherspoon.
#11 Pick Tennessee Titans: OT Peter Skoronski
The Titans have fallen from grace from their playoff season a few years ago where they knocked off a Patriots team with Tom Brady in the playoffs. If they want to get back where they need to be, they need to be able to block for their superstar running back, Derrick Henry, and protect their second-year quarterback, Malik Wilis. Northwestern's Peter Skoronski does both of these things and could be argued as the best offensive lineman in the draft.
#12 Pick Houston Texans: WR Jaxon Smith-Njigba
 The current state of the NFL has many teams following hyper offense winning championships, just look at the Super Bowl, both the Chiefs and Eagles have average defenses, but their offenses carry them to victory. The Texans will follow this same rule first drafting a potential superstar quarterback and now drafting a potential number 1 receiver pair up with Bryce Young.
#13 Pick New York Jets: OT Broderick Jones
As I am writing this article the Jets have not completed the trade with the Packers for Aaron Rodgers, which I do think the Jets will trade away this pick, but for the sake of keeping this less confusing, I will just have the Jets keep this pick for now. So in order to protect their quarterback, whether it be Rodgers or Zach Wilson, they will draft another great offensive tackle in Broderick Jones.
#14 Pick New England Patriots: WR Quentin Johnson
The Patriots need a lot of things right now, but they are also so close to making the playoffs once again. Mac Jones is a solid quarterback and they have solid pieces on defense, but they don't have much in weapons for Mac Jones. So due to that the Patriots will pick the best wide receiver available in Quentin Johnson.
#15 Pick Green Bay Packers: EDGE Myles Murphy
The Packers get a steal here in Clemson's star Edge Rusher Myles Murphy whose draft stock has fallen since the start of the 2022 NFL/CFB season, but he still is an amazing defensive prospect. The Packers do need help with getting weapons potentially for Jordan Love, but they do have some young wide receivers who could turn out to be staples in their offense, so I have them going defense here.
#16 Pick Washington Commanders: CB Joey Porter Jr
The Commanders also get a steal here and I would not be surprised if Joey Porter Jr goes earlier to maybe the Patriots or Jets or another team like that. But the Commanders, who have a huge cornerback need, will take advantage of the chance that they've been given here in the draft to pick up Porter Jr.
#17 Pick (Originally Pittsburgh Steelers) Los Angeles Chargers: TE Micheal Mayer
 We have the first trade in the draft here at pick number seventeen as the Steelers are the actual holders of the number seventeen pick, but I just don't feel like they wouldn't have gotten a player they wanted without reaching, so they will trade with the Chargers gaining some draft capital. The Chargers will trade up because Micheal Mayer is arguably the greatest tight-end prospect in the draft and the Chargers need a tight end very much.
#18 Pick Detroit Lions: EDGE Luka Van Ness
The Lions are up for a second time so I won't go into everything they need again, but they will decide to continue to bolster up their defense by picking one of the best EDGE rushers in the draft and could turn out to be one of the best defensive players in the draft with Lukas Van Ness.
#19 Pick Tampa Bay Buccaneers: EDGE Nolan Smith
The Buccaneers without Tom Brady have a lot of questions that need to be answered, but with where they're at in the draft and they aren't in a good spot to pick up a Tom Brady replacement in the first round. So they will improve their declining defense by picking up Nolan Smith.
#20 Pick Seattle Seahawks: DL Calijah Kancey
The Seahawks are back up again and they will continue to go and improve their defense after going with Tyree Wilson with their first pick. Their defense was one of the reasons why they weren't able to go as far into the playoffs as they might have wanted, as it was holding their offense back. But now with the additions of Wilson and Calijah Kancey, it should improve substantially. 
#21 Pick (Originally Los Angeles Chargers) Pittsburgh Steelers: CB Deonte Banks
This is why I have the Steelers trading down from their original pick, they'll get some pretty good draft capital and they also are able to pick up a really good cornerback, which is what they need, without having to reach for one. 
#22 Pick Baltimore Ravens: WR Jordan Addison
The Ravens, although being a solid playoff team, still need a lot of help. With their defense, yes, but with where they are in the draft they have a solid chance to pick up a great wide receiver for Lamar Jackson in either Zay Flowers or who I think they'll go with, Jordan Addison. 
#23 Pick Minnesota Vikings: WR Zay Flowers
Luckily for Flowers, he didn't have to fall far since the Vikings really only have Justin Jefferson in their wide receiver core with Adam Theilen signing with the Panthers and the Vikings need someone other than Jefferson picking up the slack. Flowers can definitely be that guy that Kirk Cousins can rely on whenever Jefferson isn't open and that's why the Vikings will pick him here. Vikings fan Seth Bowers says "I think we should get a better quarterback in the draft", but he also thinks that the wide receiver issue is important to address since Theilen is leaving the team. 
#24 Pick Jacksonville Jaguars: OT Darnell Wright
The Jaguars impressed very much in the 22-23 regular season, even making a playoff berth with the help of a breakout season from quarterback Trevor Lawrence. But even though they won a playoff game, they are far from a great team and have many holes that they need to fill with the first order of business being to protect their young quarterback. They will get this done by drafting a very solid offensive lineman in Darnell Wright.
#25 Pick New York Giants: IOL O'Cyrus Florence 
The Giants are another team who had very low expectations going into the 22-23 regular season and ended up making the playoffs, but instead of having a breakout quarterback they had a breakout defense, and although they have a higher pick than the Jaguars they are probably in a worse spot with Daniel Jones under center. But the biggest thing the Giants have to improve on is their offensive line and O'Cyrus Florence is the best available at this point in the draft.
#26 Pick Dallas Cowboys: RB Bijan Robinson
After getting rid of their starting running back, Ezekiel Elliot, and signing their other star running back, Tony Pollard, to a one-year deal the Cowboys are in a little bit of a rough spot at the position after just a few years ago they thought Elliot would be their franchise running back. But with the spot they are in the draft and a running back with a future star written all over him in Bijan Robinson, the Cowboys have lucked out.
#27 Pick Buffalo Bills: IOL John Micheal Schmitz
The Bills are in a very weird spot, as they don't have many holes in their team, but they didn't even make it to the AFC Conference championship game. They do need help with their offensive line the most, so they will be reaching a little bit here to get John Micheal Schmitz, but in the end, it's fine.
 #28 Pick Cincinnati Bengals: TE Dalton Kincaid
After coming up short in the 2022 super bowl and short in the 2023 AFC Conference championship game, the Bengals know they are so close to a dynasty. They have so many young, dynamic superstars like Joe Burrow and Jamar Chase and a really solid defense that should be able to do enough to give them success in the years to come. They do have a hole at the tight end, so they will be picking up Dalton Kincaid who could become another star player in their red-hot offense.
#29 Pick New Orleans Saints: DL Bryan Breese
The Saints have a lot of issues, despite drafting at #29, but that's only because they traded for this pick. They have quarterback problems, and their solution to that is Derek Carr, they have other offensive issues and defensive issues. They will start to fix these defensive issues by going with a really solid defensive lineman in Bryan Breese from Clemson.
#30 Pick Philadelphia Eagles: DL Mazi Smith
The Eagles don't have really any issues they need to address, they have one of the best offenses in the league and their defense is really solid. They already have a really scary defensive line and after they started to fix their secondary with Witherspoon, they will make their defensive line even scarier by picking up Mazi Smith.
#31 Pick Kansas City Chiefs: EDGE Will McDonald IV
The Chiefs are the best team in the league, they have such little holes on their roster that pretty much any pick won't make much of a difference. They do have some problems on defense so they'll be picking up the best defensive player available at this point in the draft in Will McDonald IV.
#32 Pick Pittsburgh Steelers: OT Anton Harrison 
The Steelers picking here at 32 is pretty strange, as they need a lot of help right now, but one of the most important pieces of their rebuild is their young quarterback Kenny Pickett. What they need to do is keep Pickett safe and healthy so they will be picking up a solid offensive tackle in Anton Harrison to keep his jersey clean.