History of AAPI Heritage Month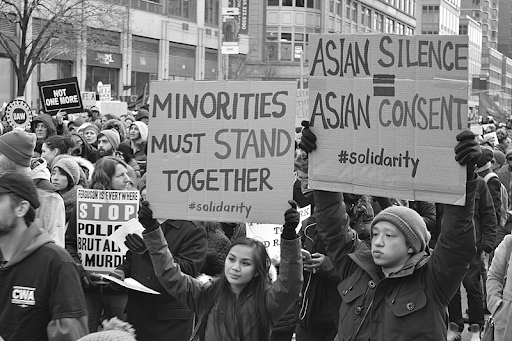 This image shows Asian American protestors at an event in New York in 2014. (Image found here)
As some may know, May is Asian American and Pacific Islander Heritage month. Asian American people have had a long and tumultuous history within the United States. While this article will not be able to cover this vastly diverse and complicated group of people and their history, it will hopefully show you the importance of AAPI Heritage month.  
It's important to recognize that the term Asian American and Pacific Islander is very broad. In the words of Mrs. Long, the sponsor of Central's Asian American Association, "AAPIs are certainly not one homogenous population. Generalizing AAPIs as one group without considering the rich history and culture that accompanies each specific subgroup can risk an inaccurate portrayal of the AAPI group through overgeneralizations, causing subgroups to lose their voices and visibility."
Asian Americans and Pacific Islanders have seen a great deal of backlash and faced many disservices throughout history. This includes the many exclusionary laws they faced when first immigrating to the US during and after the Gold Rush. This time saw the first big wave of Asian immigrants, and many of the people already settled in the US had issues. They saw this as a threat to the life they had built for themselves, and were worried these people were going to steal their opportunities. This fear drove laws into place that restricted the amount of immigrants from certain Asian countries, such as China, Japan, Korea, India, and others. 
Asian Americans have also faced other adversities. The Japanese Internment was a huge one in 1941, where Japanese Americans were forced into camps after the bombing of Pearl Harbor. This threw off the lives of countless Japanese Americans and caused a great deal of trauma. Other groups were denied citizenship because of their ethnicity and banned from testifying in court. 
This isn't just a thing of the past either. In the past few years, during the COVID-19 Pandemic, an uptick was seen in anti-Asian racism and acts saw a disturbing high. In 2021, six out of eight victims of a brutal massacre in Atlanta were killed. An organization called Stop AAPI Hate, which was formed in 2020 to help advocate for these instances, found they received 3,795 reports of anti-Asian racism between February 28 and March 19 of 2021. 
This is one of the reasons why AAPI Heritage Month is important to so many people. It's one where AAPI people are recognized for their achievements, and contributions to society. 
A point of time commemorating AAPI people was first proposed in 1977. Representative Frank Horton of New York was given the idea for a week commemorating AAPI people by Jeanie Jew, who had been a congressional staffer. He and Representative Norman Y. Mineta proposed this idea, and Hawaiian Senator Daniel Inouye as well as Senator Spark Matsunaga proposed a similar one a month later. They suggested that the first ten days of May would be considered Asian American/Pacific American Heritage Week.
Neither of these resolutions were passed. A year later in 1978, Representative Horton proposed a similar one in what was called "House Joint Resolution 1007". This one was similar, stating that a week during the first ten days of May, including the seventh and the tenth, would be Asian/Pacific American week. This one was accepted, and later passed by President Jimmy Carter October 5, 1978. This law was later changed, stating a "7 day period beginning on May 4, 1979 as 'Asian/Pacific American Heritage Week."
Later, in 1990, it was passed that it was to be observed for a full month, rather than the week. And finally, in 1992, May was proclaimed as Asian/Pacific American Heritage Month. May was chosen specifically to commemorate a few important milestones. It is said that May 7, 1843, was the day the first Japanese people immigrated to the United States. May 10, 1869, was the anniversary of the finishing of the transcontinental railroad, much of the work of which was done by Chinese Immigrants. 
Today, AAPI Heritage month is a time of importance to many, for many different reasons. 
Helen, a freshman member of Central's Asian American Association, says, "It's important to me because every other minority has a month to themselves, or at least a time period where their history and culture is respected and learnt about. Having the month of May dedicated to AAPI culture and history is equally as important as every other minority."
"It is a month that highlights our heritage and culture when a lot of the time we are left out of conversations having to do with race. Sometimes we are seen as the 'model minority', or in at least my day to day school life, simply 'the smart, unproblematic kids'. It is important to be aware of who we are and not be simplified into stereotypes, and I think this month brings awareness to who we are as people," remarks Kenji Hayakawa, a sophomore and member of the Asian American Association's executive board.
Mrs. Long says, "I identify as an AAPI and oftentimes feel that not enough discussion centers around the challenges that the AAPI community faces.  I founded and have sponsored the Asian American Association (AAA) for the past eight years at Central High School, and am currently working on a doctoral dissertation related to the AAPI population.  I am passionate about celebrating the diversity of our community.  I believe that recognizing this diversity on a larger scale and bringing awareness to our group is necessary and should be celebrated."
To reiterate, this article barely touches on the diverse people and intricate cultures that are encompassed within the AAPI moniker. This month holds importance to so many people for celebration and remembrance. If you are curious, consider doing your own research. Kenji Hayakawa stated, "Asians are a large community in America and make up a lot of our population. It is important to be aware of their culture and respect it."
Sources: