Fall is in the air! The beautiful orange and red hues of autumn shine in the trees, apples and pumpkins dominate orchards, and people are gallivanting about in cozy attire, for though it may still be rather warm, autumnal vibes are indeed upon us.
While it may not expressly feel like fall yet, perhaps some of these homemade autumn decorations will put you into the spirit of pumpkin spice! These activities would be great to do as a get-together between friends, or with your family! Without further ado, here are some creative DIY fall decorations!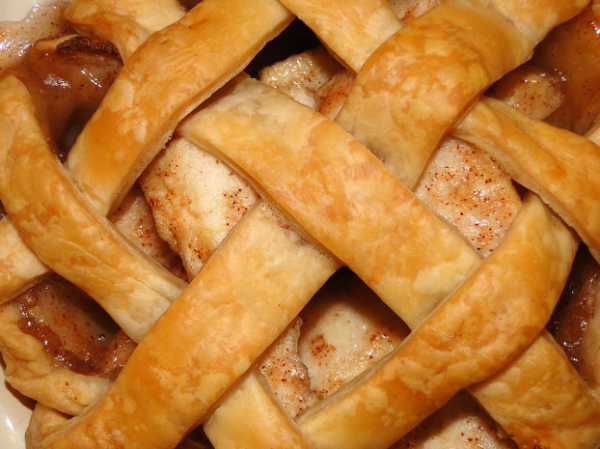 Pie is an autumn staple, so why not decorate your house with it? (Image found here)
Story continues below advertisement
Apple pie is a hallmark of fall. For many, it gives a homey, warming feeling, and is a staple for the season. However, while having an apple pie out as decor may be fun, it probably isn't the most sanitary and would attract bugs. The solution? A fake apple pie.
Take a large sponge, and cut it up into small cubes, putting these cubes in a pie pan. The goal is to fill the pan. It isn't recommended that you use a pie pan that regularly comes into contact with food, but a disposable one would work swimmingly. Put some reddish-brown paint into the pan with the sponge cubes, and mix and squish with your hands until the pieces are coated to your satisfaction, adding more if needed. Wait for this to dry. If you so desire, throw in a few spices or pieces of potpourri, so your apple pie will smell as good as it looks. 
After the sponge dries, you can start on the "crust". Take some air dry clay, and arrange it in strips across the top of the pie. If you so desire, you could do a more intricate pattern, but a few vertical and horizontal strips should do. Arrange another strip of clay around the perimeter of the pie to act as the edge crust. Once this clay is dry, go in with some orangey-brown paint to color the crust. As a finishing touch, once the paint dries, you can rub on some real ground cinnamon. Not only does this make it look slightly more realistic, but it also wards off any insect threats to your pie. 
And voila! You have a fake apple pie. Put this in an entryway, an office, or anywhere you want a little slice of fall. Just don't eat it, please.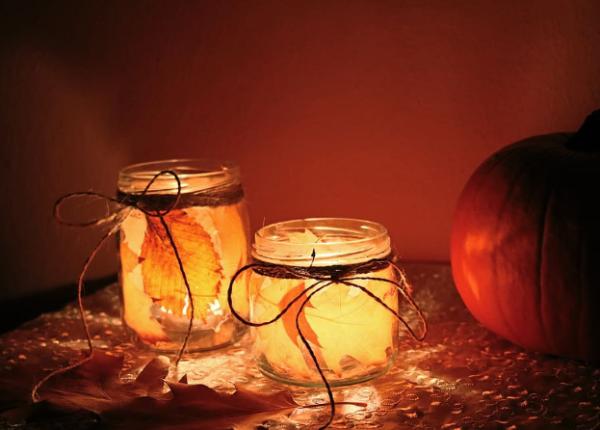 Orange leaves and autumn. Is there a more perfect combination? (Image found here)
One of the most magical things about fall is the changing scenery. Before you know it, the greens of summer are gone, and replaced with shocks of red, orange, and brown. It's quite a beautiful thing to behold. So, what better way to get your autumn spirit on than with these leaf mason jars!
All you'll need for this project is a mason jar, a paintbrush, some sort of craft glue, and, of course, leaves! While you could use real ones, they may be a bit brittle, and lose color over time, so fake leaves may be the route to take. Using the brush, put a thin coat of glue on the outside of the mason jar. Then lay the leaves atop this layer, until you've covered the jar in your preferred manner. 
Wait for this to dry, and just like that, you have leaf mason jars! Use these to store candy, pencils, or other odds and ends. You could also put in a tealight or some fairy lights, for a glowing centerpiece. Regardless, these cute jars will make the most darling decorations for your home!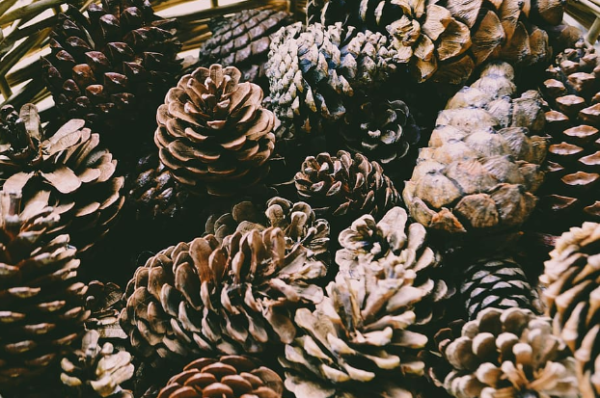 While these pinecones may smell nice, maybe, with this craft, they'll smell even better! (Image found here)
These scented pinecones are incredibly easy to make, and harness great results! You're left with some wonderful smelling decorations that you can put around your house, or in a jar.
Take a clean pinecone, and, using a brush, paint a thin layer of glue over the whole thing. Next, find some ground spices. Cinnamon works well, but you could probably use other ones such as cloves and nutmeg, or combinations of them all, and receive good results. Sprinkle your spices evenly on the entire pinecone, ensuring you get all the nooks and crannies. 
Let this dry, and just like that, this simple, easy DIY comes together in a snap. As mentioned earlier, you can place these in jars or on their own around your house to invite autumn aromas, or put them in a jar as a fragrant centerpiece. If not using, make sure to put these in an airtight container to preserve their scent. 
Sweater Pumpkins
These pumpkins are sure to be cozy, and fairly easy to make. (Image found here)
If you have some old sweaters, and a hankering for making something fall-related, this craft is for you! These adorable Sweater Pumpkins require no sewing, and make excellent cozy decorations for wherever you may put them.
Take an old sweater you don't mind ripping up, and cut off a sleeve. Cut this sleeve in half(you only need half the sleeve to make a pumpkin, so you can get a total of four out of each sweater). Turn one half of the sleeve inside out, and tie one end tightly with a rubber band, before flipping it right side out once again. Put a handful of rice, beans, or lentils into the opening of your sleeve, before stuffing the remaining amount. You could use actual polyester stuffing, but fabric scraps or other soft and squishy things of that nature should do just fine. Once you've reached your desired filling, secure the top tightly with another rubber band. The rest of this sleeve will act as a stem. Cut this to your desired length, before wrapping it tightly in twine or some other string, using glue to secure the ends. These adorable, cuddly pumpkins make darling decorations, and cute gifts.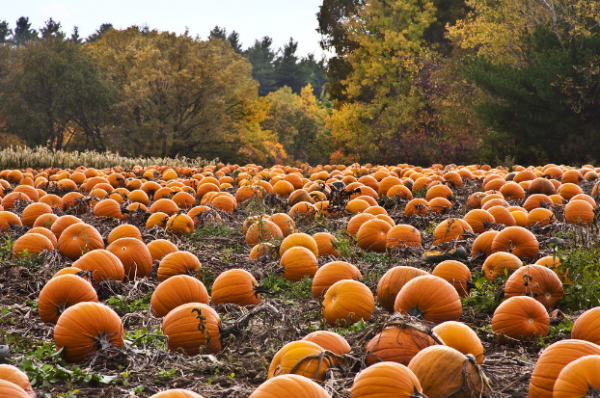 The possibilities for ways to decorate pumpkins are endless. (Image found here)
What says autumn more than pumpkins? These seasonal gourds are an essential part of fall, and there are a myriad of ways to decorate with them. This quick list will hopefully give you a few ideas.
You can paint the top of your pumpkin with any color paint you choose, and paint on some short, colorful lines. Just like that, you've got doughnut pumpkins! There's a great number of possibilities when it comes to pumpkins or other foody things.
Take the top off a pumpkin, and scoop out all its guts. Afterward, you can drill holes all along the pumpkin, whether they be in a pattern or randomly scattered. Take a tealight, or some fairy lights, and put them inside the gourd, replacing the top. You'll have a cute, bright pumpkin lantern. 
Another adorable idea is a little pumpkin house! Once again, cut the top out of the pumpkin and remove the seeds from within. You can then cut a door-shaped hole in the side of your pumpkin, in whatever size you want. From there, you can really get creative. Find little things around your house that could be miniature furniture, put on your interior decorating hat, and arrange them within your pumpkin. You can cut windows, or put in little tables and chairs. You can even use a mini pumpkin to give your gourd-home a tiny inhabitant. While these pumpkin ideas may not cover every possibility, hopefully they provide you with some inspiration or fun ideas.
And there are five ideas for DIY Fall decor! Hopefully one of these satisfies your need for autumnal decoration, or at least provides you with a pit of entertainment. Either way, happy crafting!
Sources:
Fake Apple Pie

Leaf Mason Jars

Scented Pinecones

Sweater Pumpkins

Rapid-Fire Pumpkin Ideas