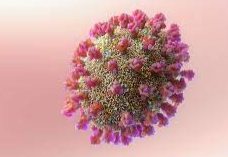 Covid spikes are on the rise in America yet again and it could be worse. Hospital rates are up 23.6%. Some schools in states like Virginia have already shut down due to the variants more contagious element and with fall on the horizon it raises concerns.
The new covid variant known as BA.2.86 is being found in many places in a short amount of time and is raising a concern. Dr. Deborah Birx from the CDC says, "The U.S. has largely let its guard down and is ignoring the summer wave of infections, despite the fact that the virus is following a predictable pattern the nation has been through every year of the pandemic." This could make it a more contagious strand of the original Covid 19.
The good news is that a new fall booster should be able to protect you a little more and the at home test can tell if you have covid or not still. But with fall on the horizon cases are going to spike, and the variant is going to be more prominent, it is already shutting down some schools and is worrying some students about another potential lockdown. Champaign Central High School student, Annabella Villanti, when asked about how the covid lockdown impacted life and education she claimed "I was moving during the lockdown, so adjusting was a lot harder socially," Annabella then responded "Online school was a lot harder to pay attention in, and took a lot more motivation to complete." When asked how concerned she was about the new covid strand, she stated that "I am concerned about how this variant is spreading more rapidly."
In addition, the hospitals are having a hard time keeping up with the virus. Hospitals are still having a shortage of staff about 22%. There have already been a surge of many covid cases ending in hospitalization with many being linked to the new variant BA.2.86, but it has not been confirmed that this variant causes more severe symptoms since we still know little about this new variant. It does leave some concern, the CDC recommends getting this new covid booster. The CDC says that "while breakthrough infections in vaccinated people are expected, staying up to date with vaccinations is the best protection against Covid."
Story continues below advertisement
Central parent, John F. Riegel, who works in the county sheriff's office, talks about his level of concern and how Champaign County is preparing. How concerned are you about the new covid strand? "Not very concerned, I believe the vaccines will be available before it gets bad," said John. How would you feel about a second lockdown? "Not great, I believe it would do more harm than good to the community," said John. How are you preparing for covid at your work? "Daily updates of the number of covid cases in the county and we are making sure we are prepared for the fall with the spike in cases plus the new variant."
With this new variant it is causing some schools to lock down and people are not happy about it. Schools in Virginia have shut down due to the recent spike and variation. Here is what Bryce Clark, a Champaign Central High student, had to say about it. How did online school affect your education? "I felt like I didn't learn anything, I really struggled in Spanish while trying to learn a language over the computer. I feel like the face to face interaction with the teacher helps me learn more," Bryce responded.
The CDC recommends "To wear masks while indoors, wash your hands, stay home if you suspect you have covid, and stay up to date with the vaccines." The vaccine for the new variants should come out by mid September.