The Ryder Cup happens every two years and it is the United States vs Europe. This is the largest golf event that is different from the normal tournament representing their country. This year's Ryder Cup took place in Rome, Italy from September 29 to October 1.
This year's Ryder Cup took place at Marco Simone golf course in Rome, Italy. This year, team Europe was the host, and in 2025 the US will host. These teams trade off hosting. The Captains this year were Zach Johnson for the US and Luke Donald for Europe. The Captain's job is to pick six players that don't automatically qualify for the team and are from that region or country. They also have to put the players into teams for each format, which are Four Ball. This is where each person plays their own ball and you take the best score on the whole. Foursomes is where each team plays one ball but they trade off who hits each time. Finally, Singles where each player plays their own ball and plays against a player from the other team. These are the formats where each team will earn points. A win is one  point, a tie is a half point, and a loss is zero points. The first team to reach 14.5 points wins. 
This year, the US team was favored to win on European soil which hadn't happened for 30 years. Mike Levitan, a big golf fan, thought "The US should win because they have the number one player in the world and were last year's champs." Alex Krishner of the analyst said, "The US has a much deeper roster and should win." The Europeans proved them wrong because they came out really strong and had a huge advantage being up 6.5 to 1.5. This proved everyone wrong, and got a huge lead and gave the US a super hard time coming back. The US did a lot better the second day tying the day 4 to 4, but the Europeans only needed 2.5 points to win. The Europeans with a huge day going into the end were able to pull it out and win. This was a huge win for the Europeans and proved lots of people wrong after Luke Donald wasn't supposed to be the captain. 
This is such a fun and exciting event, and golf fans around the world look forward to it after all the stroke-play events are over for the year. This year was a great year for golf and this is a great end of the year event, and fans bring lots of excitement.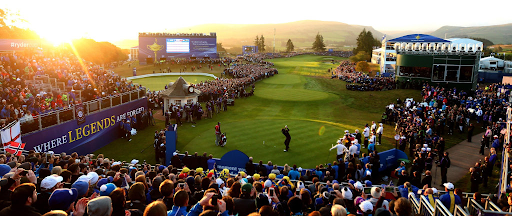 Story continues below advertisement