(  Halloween-inspired, food for your awesome spooky Party) 
Halloween is coming up, and that means it is time for a Halloween party.  If you need some treats that suit the theme, then this article is just for you. From mummy dogs to bat cookies, here are some recommendations for your spooktacular party. 
1. Mummy Dogs

Total time: 50 mins
Story continues below advertisement
Servings: 10 
Prep time: 30min
Cook time: 13-17mins         
( From philsbury.com ) 
This is perfect for those savory cravings, with delicious dough and the amazing facial features you can make. This treat is great, and perfect for siblings or random children. These spooktastic pigs in a blanket, are to die for. 
With highly recommended reviews, it's a good thing to make with children. With it being easy to make and is very adjustable to your needs, Rainbowavacodos says "We make these for Halloween potlucks and they are always a hit. CHANGES: We've never added the cheese because our recipe didn't include cheese, and they are wonderful without the cheese. We also use candy "eyes" (find them in the baking aisle at Publix), which can either be eaten with the dog or removed to avoid the extra sugar with your savory treat." 
Most of the reviews recommend cooking the dogs for 15 minutes for perfect crust and taste. "Made these last night with a sheet of dough. It was a pain cutting those strips. My changes, I used cheese dogs, used 2 strips of cheese, cut the dogs in half, covered them with mustard, then cheese, and then wrapped them. Baked at 375 for 15 min"- Jrc421 
 for the full recipe and tips check out this website: Mummy Dogs recipe  
2
.
Marshmallow Ghost Brownies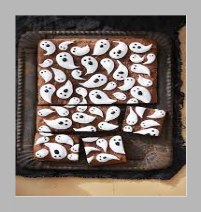 Serving:12-16 
Prep time: 30 mins
Cook time: 2hr  
Total time: 2hr 50mins 
( from Country Living Article by Tara Bench )
This spooky dessert can be very addicting for its delicious chocolatey-pumpkin goodness that makes it hard to not eat anymore. For a quicker way to make the ghost, you can use pre-made marshmallow fluff, put it in a piping bag, and make your ghost. With a 5-star rating, a lot of people love it for its pumpkin flavor and interesting designs.
 OrganeStrawberry said" I am a culinary arts high school teacher and I loved this recipe for many different reasons. The result is fun. Looks great and is not difficult to succeed Pumpkin makes a moist brownie. The students used the piping bag to create cool ghosts successfully. "I asked some students to rate this desert and they gave this a good solid 9/10. Because of how interesting it sounds with a "cool design" Sophie Nixon-Gasyon said.  For the full recipe a tips and tricks check out Marshmallow Ghost Brownies  
3. Pumpkin Spiced Buns
Serving- 12
Prep time: 40 minutes 
Cook time: 2hr 
Total time: 2hr and 40 min
( from Country Living article made by Marian Cooper Cairns)  
        This could be for a spooky breakfast or and, pastry for your  Halloween party. With its spooktacular design and its delicious flavors, this treat is something you want more of.  A student in Central High School said that this treat is delicious and a perfect pastry for a Halloween morning. With a pumpkin flavor, this treat is perfect for your Halloween party.  For the full recipe check out Pumpkin spiced buns  
  4. Jack-O-Lantern Cookies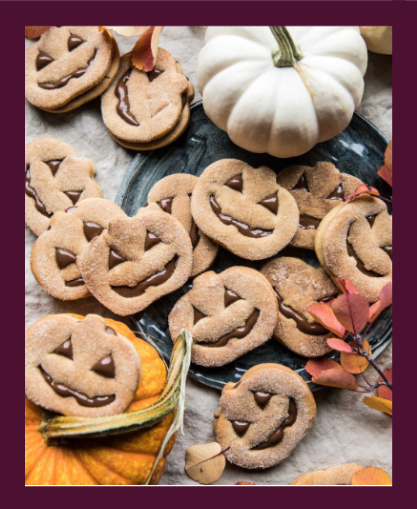 Serving: 30 
Prep time: 30min 
Cook time: 15min
Total time: 45min
( From Half-Baked Harvest article made by Tieghan )
With its design, these are perfect for a Halloween party or for a fun treat to treat yourself. What could go wrong with a delicious cookie, stuffed with creamy chocolate this is the most delicious thing you will ever taste. Kristen on Half-Baked Harvest says "These cookies are my absolute favorites. I've been making them for a few years now. Thank you for this great recipe. They taste like fall and all things I love."  
5. Spiced Chocolate Bat Cookies
Serving: 12 
Prep time: 45min 
Cook time: 1hr 
Total time:2hr 30min
( from Country Living Article made by Liza Jernow) 
 With a delicious chocolate flavor, this bat cookie is perfect for all those chocolate bat lovers out there. With a design that screams Halloween this Spiced Chocolate Bat cookie is the treat to have for your party.  Quincy Payton said "These Bat Cookies are a delicious chocolate treat and a great treat"  
Check out this website for more information and recipes. Spiced Chocolate Bat cookies  
  Those are the Top 5 Halloween Treats for your Halloween Party, now there are way more treats than these. So I highly recommend checking some out. These are your top 5 spooky treats.