Taylor Swift is again breaking the internet with rumors of dating Kansas City Chiefs tight end, Travis Kelce. The rumors started after Kelce went to Swift's July 8th Eras Tour show at Arrowhead Stadium and hinted at wanting to give her his number. 
Taylor Swift is one of the most popular artists of our time, her first U.S. leg of the Eras Tour wrapped up at the beginning of August, and her international dates started later that month and will continue until the end of November. 
Travis Kelce is the tight end for the Chiefs of Kansas City. Kelce was just recently named the most valuable non-quarterback of all time. Kelce is a 2-time Super Bowl winner and currently holds the record for most receiving yards ever by a tight end. 
Rumors started to spark after Travis went to Taylor's show in July, the day after her release of Speak Now (Taylor's Version). On his podcast with his brother, Kelce stated that he was hoping to get a chance to speak with Swift before/after the show. He said he wanted to give her "a bracelet with my number on it". 
Story continues below advertisement
After a little while the rumors seemed to be out of the woods, people didn't really talk about it since nothing new was happening. This was until Swift was spotted at the Chiefs vs Bears game on September 24th with Kelce's mom, family, and friends. People started to talk about the possible pair once again. Patrick Mahomes, the Chiefs quarterback, was seen waving up at Swift and laughing with Kelce on the field. Swift was seen tied together with a smile when Kelce scored a touchdown. 
After the game, the two were seen leaving the stadium together, then later seen in a getaway car. 
The rumors didn't just affect the Swifties who are super into her love life. After this game, sales for Travis Kelce jerseys saw nearly a 400% spike, Jason Kelce and Travis Kelce's podcast is in starlight, sitting at #2 on Spotify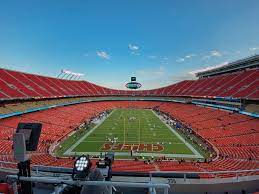 charts.                                                                                     
"I like the idea of keeping things out of the public eye, it's not meant for everyone" Abby Wenzel, an avid Swift fan expressed when asked how she feels about the couple and her views on the rumors. 
The two have been pretty quiet about the whole thing, romance isn't dead if you keep it just yours. 
Shortly after Swift's tour started it was released that her 6-year relationship with Joe Alwyn ended. Kelce's 5-year long relationship ended in May 2022. "I don't see it going wrong, just something more casual and not long-lived" Wenzel stated about the possible outcomes of the relationship. 
"I hope she isn't using him as a rebound from Joe" Veronica Grassman shared her feelings on how the pair could possibly go wrong. 
Ever since the rumors started prices for games have spiked 40%. A large number of people attending games are going in hopes of seeing Swift. 
Some fans on the other hand are getting annoyed by this. During the Chiefs vs Jets game on Sunday, October 1st, 2023, Jets fans were stating that they were there for a game and not Swift. Some people say Swift is "putting Travis and the Chiefs on the map" "They're going way overboard, it has nothing to do with football" Ken Wenzel shares his views on all the media coverage.
A big fear some people are having is how people will react if the two confirm the relationship. "I wouldn't be surprised, I would think it's a little weird fanbase-wise so it wouldn't mix well." Grassman says. 
The two are on different ends of the fame spectrum. Swift is one of the biggest artists in the world right now. She currently stands at No. 2 among top Spotify artists, behind Drake. Kelce was recently named the best tight end of 2023 and the most valuable non-quarterback. 
After the October 1st, 2023 game, Kelce and his brother Jason spoke out about how they feel the NFL is overdoing the situation and using it to gain viewers. Kelce stated on his podcast that they are "definitely overdoing it". "The amount that sources are playing it up could be a stunt but since Travis has been pretty silent I think it could go either way". Wenzel expressed. 
After Swift's appearance at the Bears vs Chiefs game, ticket sales increased by 20% for the October 1st game. Kelce shared that the celebrities are not "there to be thrown on TV". Some people are getting a little annoyed with all that the NFL is doing about the pair. "I'd rather just watch football, even though I am a swiftie, not during football" Ken Wenzel complained about how often they show Swift during games. 
A lot of fans say that they are using Swift's appearances to their advantage a little too much. Gianna Barger said "Over the years when celebrities are at games they show them once or twice but they show Taylor like every time they score or before a commercial break"
On the other hand, some football fans think the two are new romantics and love it. Fans get that Swifties, they can really do anything, so they are all for the pair making them be in daylight. 
Neither Swift nor Kelce have said really anything confirming or denying the rumors and with Taylor's history of keeping her love life on the other side of the door it is unclear if they will.