Girls' Soccer Season Kicks Off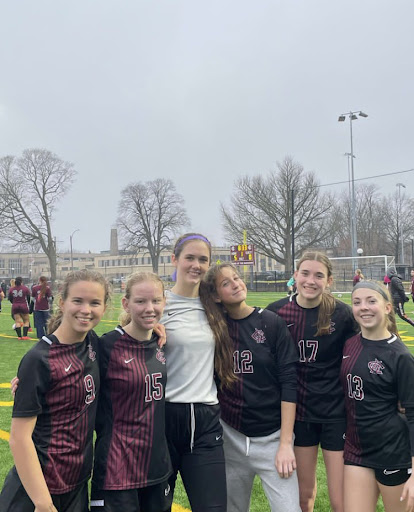 Girls' Soccer Season at Central began on February 29th, when the teams were announced. 
We have two amazing teams this year, Varsity and JV, playing on our brand-new field across the street. 
This is the first time Central has ever had its own field so close, which is a great addition and benefit to all of our new construction. Freshman Halle Youse said, "The new field is so nice and it's so close. There are a couple of things still under construction but the turf is really nice and the concession stand was open last game." 
Coach Whitely said, "We had the field behind Franklin, it was a PE space for Franklin and a soccer field for Central for a long time." The new one is definitely a step up and a step closer. The players have been taking advantage of the field and are having practice almost every day. They´re getting so good that they've had a great season so far this year. 
JV has won both games they've played, and Varsity has tied one and won the other. The players have plans to keep this streak up, as Youse said she's excited for their next game with Springfield, "Springfield is supposed to be hard, but I'm still looking forward to the challenge." 
Youse's JV and the Varsity team both lost against Springfield's team, but said on their Instagram that they "get better", because of the loss. 
The losses and the field aren't the most important to them though, it's how close they are. Freshman Caroline Blount said that this is super important, "When you're close with your teammates it builds that good chemistry and you can kind of learn what they're going to do and play off of each other. It's also a lot more lowkey than my club team, I can enjoy it more here than with my other team, and the overall atmosphere is fun." 
They even have a stuffed animal awarded to the MVP of a practice. Blount brought up ¨Dante¨, the stuffed frog they get to bring home if they were the best player at practice, which is featured on their Instagram! You can also find the link to the schedule of their games.                                   
But per usual, the game everyone's most excited about is the Centennial VS Central game. Blount said, "I'm definitely looking forward to playing Centennial. It's supposed to be our big rival game." 
The next games are at home, on the new field, on April 18th and 19th at 6:00 PM. Come support our girls!