Valentine's Day Sweet Treat Ideas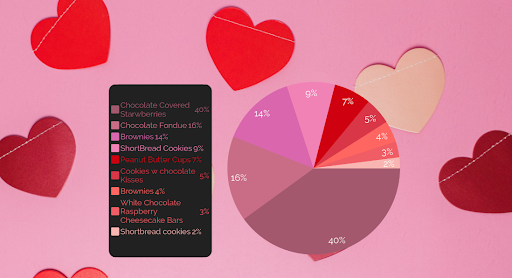 Valentine's Day first originated as a Christian feast day honoring a couple of early Christian martyrs named Saint Valentine. 
Throughout the lives of Americans and many others, it's become a significant cultural, religious, and commercial celebration of romance and love in many regions of the world.
One of the things that is popular to do for Valentine's day is to give out treats to family, friends, and loved ones. I asked some of my classmates for their opinions on these popular sweet treats, and below are their responses.
Trent Hulse, a sophomore here at Central High School, says he loves to participate in these traditions because "I get to love my family and have strong relationships with people."  Many others agree with this statement of being able to spend time with loved ones, and close friends just to share the love. In doing this many people throw parties or get-togethers.  Here are some thoughts on treats that you should buy this Valentine's. 
The best sweet treat rated 10/10 was Chocolate-covered strawberries. Which was not a surprise at all who doesn't love a sweet and savory treat!
Allison Hobson a senior at Central High School, 
"Strawberries are her favorite fruit, and chocolate is her favorite sweet, and together they are amazing." Allison said, "I usually don't have chocolate or strawberries often so it's a great treat!"
The least popular treat for Valentine's day is Shortbread cookies.  Shortbread cookies unexpectedly are usually bought the most but are also most disliked among Central students.  Sarah Jacobson, a senior at Central High School, says "Shortbread cookies have no flavor at all and the texture is grainy. It's not chewy enough". 
 Samaira, a junior at Central High School, likes them but they just don't compare to chocolate-based things.  She loves how there's a variety of flavors, but shortbread cookies aren't buttery or doughy like other desserts, it's all just crunchy.
For Valentine's this year, be sure to check out the chart and see what's most favorable so your sweet treat doesn't turn sour.